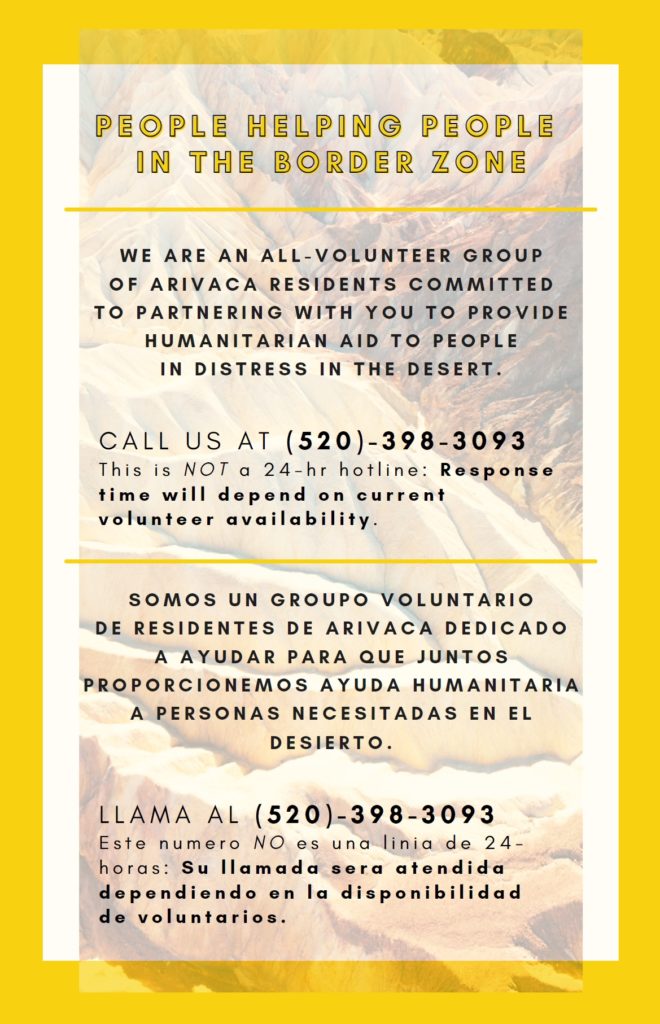 Update on Humanitarian Aid during Covid-19
Despite the ongoing public health crisis, our community is continuing to provide care to those in need. We have published a newsletter to share how our work has changed and new projects we have taken on during this time.
We are Arivaca, Arizona residents providing crisis-relief and working for border demilitarization.
Arivaca is located in the eastern Sonoran Desert where the Border Patrol strategy of "Prevention Through Deterrence" pushes migrants and refugees into a deadly crossing. Our community lives in the midst of this crisis of disappearance in the borderlands.
The military-approach to border enforcement has placed our town under an indefinite occupation by the US Border Patrol. Immigration checkpoints are positioned on all major roads, helicopters fly low over our homes, Border Patrol agents armed for war are all around us. Racial profiling, harassment, and intimidation by federal agents are part of our daily lives.
People Helping People in the Border Zone (PHP) was founded in 2012. We are an all-volunteer community organization. We work together for the protection of human life, regardless of immigration status. We organize to stop Border Patrol abuse and the militarization of the borderlands. Consider donating to support our efforts.